Our Working Dairy Farm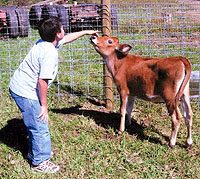 That's right, in addition to providing your favorite Pumpkin Patch and Scavenger Hunt Corn Maze, Knollbrook Farm is also a working dairy.
We currently farm a total of 430 acres, milking 110 registered Holsteins and Jersey cows.
Milking Machine
Guided Tour
Join us on a fun and educational trip through the dairy and to our new DeLaval Robotic Milking Machines. These two large devices help us milk our cows each day and are really fascinating to watch in action!
Each tour is only $2.00 per person.
More Fun at the Farm
You may observe cows grazing, and it is possible you will see some "wee-ones" being born, from a distance.
You'll also probably see John, Cynthia, or any of our four children helping to feed and care for these and our other animals on the farm.